Business governance company scoops Most Promising New Business award at 'magical' Chamber of Commerce ceremony.
A company which specialises in business governance is celebrating after picking up a top accolade at Hertfordshire Chamber of Commerce's business awards ceremony.
Beyond Governance, was the winner in the Most Promising New Business category at the 10th Inspiring Hertfordshire Awards, which took place this year at Warner Bros. Studios in Leavesden – the home of Harry Potter.
Held to celebrate the achievements and contribution of the county's businesses and charitable organisations, the glittering awards ceremony celebrated the winners of 21 categories, which included Family Business of the Year, The Green Award, Entrepreneur of the Year, and Best Use of Technology.
Erika Percival, CEO Beyond Governance, said: "The past year has been a challenge for us all. We are grateful to be recognised by the chamber and thankful for the support from the community, our partners, and our team. We look forward to the year ahead as we continue to grow in the post pandemic era"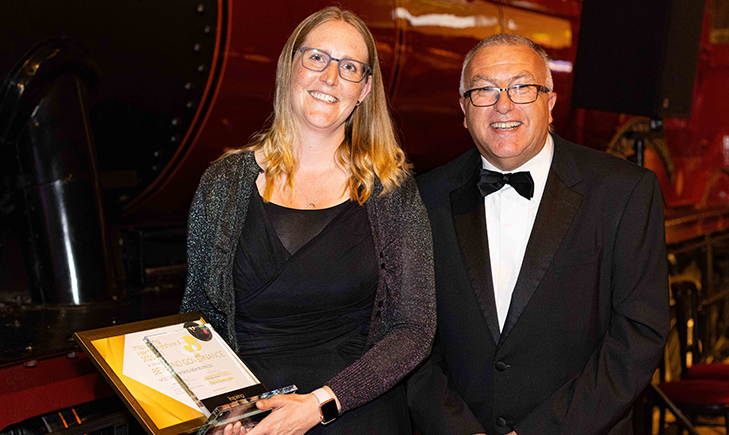 Briege Leahy, CEO of Hertfordshire Chamber of Commerce, said: "Local businesses, large and small, are at the heart of the growth of our county and our annual awards ceremony is an opportunity to recognise business leaders' hard work, innovation and contribution to Hertfordshire.
"Beyond Governance is an excellent example of a business set up with clear vision and a strong ethos. The business model is scalable in a high skilled, professional marketplace, clearly inspirational and a very promising new business."
Accolades were handed out to companies of varying sizes, while the challenges faced by the business community over the last year were recognised with the Hertfordshire Heroes awards. These were given to a business, individual and charity which went above and beyond during the pandemic.
The ceremony, which took place on September 9th, was attended by a number of local dignitaries, including the Lord-Lieutenant of Hertfordshire, Robert Voss CBE CStJ, the Mayor of Watford, the Leader of Hertfordshire County Council and prominent business leaders.
Hertfordshire Chamber of Commerce, recently named the fastest growing Chamber in the UK by the British Chambers of Commerce (BCC), has continued to support its members as businesses navigated the challenges posed by the pandemic.